The Pool Bottom Suction Robot Wheel
Anyone who has ever been to an outdoor pool knows how important it is to clean pools thoroughly. In the past, people might have been sent down there with a rag, but nowadays this is done by pelvic floor vacuums, small waterproof robots made of plastic and electronics that move back and forth tirelessly on the floor after closing time. The open-air swimming pool in Kaan-Marienborn has just such a machine, and one of its wheels was broken.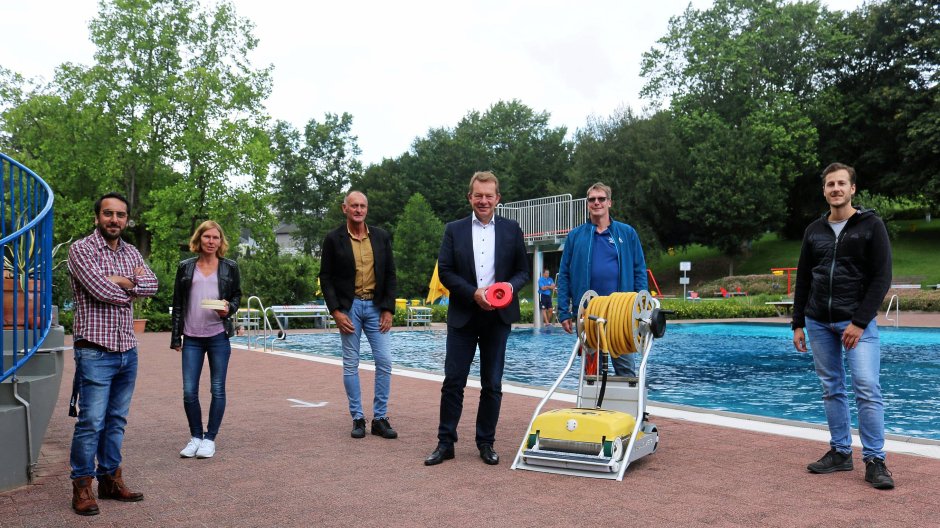 So we received an inquiry from the city's sports and pools department asking if we could print something. The original manufacturer was no longer available and a new device would probably have blown the already tight corona budget. So Jonas and Marios took care of rebuilding the old wheel, first digitally and then printing it out in durable ABS. The mayor was also there and saw for himself that everything works – the application possibilities of Fab Lab Siegen are well received. So now spare wheels are no longer a problem and the robot is looking so confidently ahead, it has even taken on a part-time job at the indoor swimming pool at Löhrtor!
Press echo
10.07.2020 – wirSiegen
Outdoor pools: replacement wheel for pool cleaner comes from 3D printer
13.07.2020 – Westfälische Rundschau
Siegen: Wheel for outdoor pool vacuum cleaner from 3D printer